Helium (SOL: $HNT) is a project committed to the development of a decentralized internet by combining the blockchain and the Internet of Things (IOT).
The Helium Network was designed to tap into the full potential of the Internet of Things, a global industry valued at $800 billion, with over 8.4 billion connected devices. According to a study published by IBM, spending in the IOT industry reached nearly $1.4 trillion in 2021.
The Helium Network Value Proposition
According to Helium, most of the IOT devices need an internet connection to function. However, existing solutions are not optimal; they cost too much, use too much power, and have a limited range. The Helium Network is designed as a wireless network that lets IOT devices connect to the internet and geo-locate themselves without using costly satellite hardware or costly cellular plans.
How the Helium Network Works
The Helium Network is powered by its native token, $HNT, which is used to incentivize coverage providers and consumers. Using decentralization will help to break up the monopoly of existing players in the internet connectivity sector. The result is a network with global coverage at a fraction of the cost. Anyone can become a network coverage provider in the Helium Network by purchasing a hotspot device. In return, they will receive $HNT.
HNT rewards are distributed via the Proof of Coverage consensus mechanism. PoC works by verifying the location of the hotspot device. Since its mainnet launch on July 29, 2019, the network has taken off. There are currently 950,759 Hotspot devices, located mainly in Europe and North America, according to this map.
Helium Technology
Instead of WiFi, Helium uses the LoRaWAN convention, which allows the network to cover larger distances. The LoRaWAN convention is a point-to-multipoint networking protocol that uses Semtech's LoRa modulation scheme. The technology includes a cloud component to which multiple gateways can connect.
HNT Token Details
The supply of HNT tokens is capped at 223,000,000. These tokens are the utility and security incentive of the Helium Network. They are used to purchase Data Credits, which are the accepted payment method for sending data over the network. The cost of a Data Credit is fixed at 1 Data Credit = $0.00001. These Data Credits are not interchangeable and must be utilized by their proprietors. Any HNT used to purchase Data Credits is removed from circulation permanently.
HNT Price Performance
HNT tokens reached their all-time high price of $55.22 on November 13, 2021. Since then, the price has dropped and is now at $1.50, which represents a 97.46% discount on the ATH. The market cap is $216,911,825 as of September 21, 2023, with a 24-hour trading volume of $2,886,037. Most of the volume is on Coinbase Exchange, SuperEx, and Bibox, which account for nearly $700K.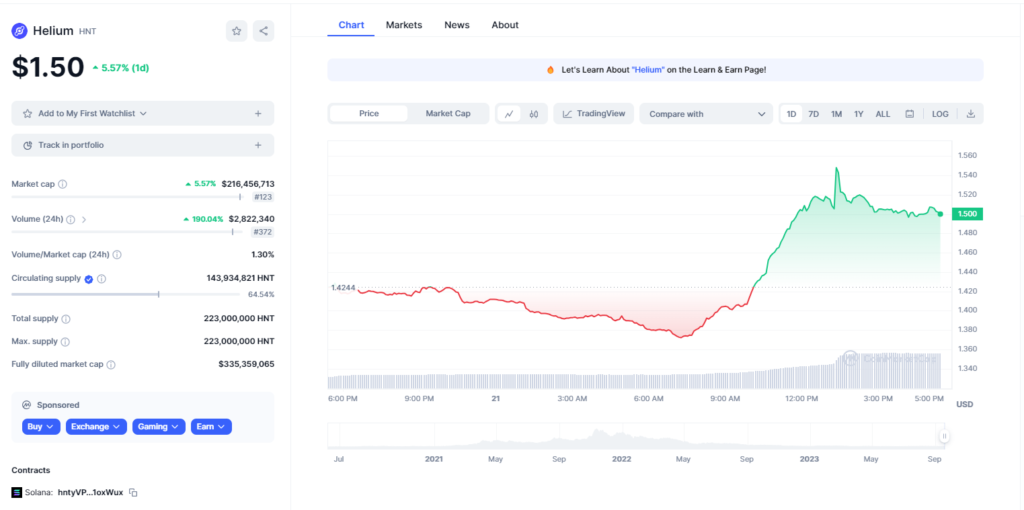 [Click The $HNT Chart Above To View On CoinMarketCap]
The Future of HNT Looks Promising
Helium is creating The People's Network that is accessible, decentralized, and owned by the people. Everyone in the network is working to build an affordable network that taps into the massive IoT industry. As its value proposition becomes more widely known and accepted by the masses, the price of $HNT will likely continue rising.
Click Here for Updates on $HNT – It's 100% FREE to Sign Up for our Email Newsletter!
---
Disclaimer: This website provides information about cryptocurrency and related stock market investments. This website does not provide investment advice and should not be used as a replacement for investment advice from a qualified professional. This website is for educational and informational purposes only. The owner of this website is not a registered investment advisor and does not offer investment advice. You, the reader, bear responsibility for your own investment decisions and should seek the advice of a qualified securities professional before making any investment.