Komodo (BNB: $KMD) is an open-source layer-1 blockchain that utilizes the delayed proof-of-work consensus mechanism. It is one of the leading projects for interoperability via atomic swap technology.
The $KMD token has been trending since August 24th, having experienced a price surge and trading volume explosion. Today, we are taking a closer look at this increasingly popular cryptocurrency, Komodo.
Why is Komodo Trending?
The recent $KMD price increase can be attributed to growth in the use of the Komodo platform, as well as Komodo making several announcements.
the creation of AI art for ten projects that are listed on the Komodo wallet.
Komodo Wallet would be the premier DEX for wrapped XEP and XEP swaps.
The History of Komodo
Komodo's origins go back to 2014, when founder James Lee first started working on atomic swap technology as a solution for blockchain interoperability. The project officially went live with the creation of its genesis block on February 21, 2016. Like many other privacy coins, the Komodo team initially opted to remain anonymous. However, many have revealed their identities as the project developed.
Komodo was forked from the Zcash privacy coin, which was forked from Bitcoin. As such, Komodo features much of the same technology found on Zcash, including the zero-knowledge proof protocol.
In February 2019, Komodo removed the zero-knowledge privacy feature for $KMD. Thus, Komodo is no longer a privacy coin.
The Goal of Komodo
The Komodo platform uses technology that enables flexible, interoperable, secure, and scalable creation of business solutions on the blockchain.
Komodo has its own native multi-chain protocol called "Komodo Core", which enables anyone to launch their own UTXO-based independent blockchain and their own coin. These projects use their own coin for network transactions. Unlike other blockchains (i.e. Ethereum) Komodo Core doesn't require KMD as a secondary currency for gas.

Komodo Technology Overview
Komodo's goal is to connect all blockchain networks together through atomic swaps, a peer-to-peer (P2P) DEX trading technology that eliminates the need for third parties. Komodo also aims to offer increased utility by providing solutions for developers who want to launch their own independent blockchains and DeFi applications, such as DEXs, wallets, Initial DEX Offering (IDO) portals, and more.
Komodo is great for dApp development, as it is considered developer-friendly. This is because its atomic swap technology is blockchain-agnostic, making it easy for developers to create dApps that work natively with their various existing blockchain protocols.
Atomic Swaps
Komodo's atomic swaps technology is one of the most innovative. Unlike other platforms, which only support tokens created on their blockchain, wrapped tokens, and bridges, Komodo allows the direct exchange of tokens from different blockchains.
With Komodo's atomic swap technology, users can trade BTC, ETH, and other cryptocurrencies through the Komodo Wallet, which offers more privacy than centralized exchanges. The technology protects both parties via hashed timelock contracts (HTLCs) that ensure they meet their end of the deal.
Komodo Tokenomics
$KMD acts as the utility token of the Komodo platform. It is used to pay transaction fees and also network fees by developers working on Komodo. Holders of $KMD tokens receive rewards in any wallet address holding 10 $KMD or more.
$KMD Price Performance
Despite the many advantages offered by Komodo, the price of $KMD has remained relatively low. That is, until this past Friday, August 24, 2023, when a boost in investor interest caused the $KMD token to jump from $0.19 to a high of $0.3349, representing a gain of more than +76% intraday.
The $KMD price has since settled back down to $0.2334 per token, represents a discount of -98.49% on the all-time high (ATH) price of $15.41, which the cryptocurrency achieved on December 1, 2017.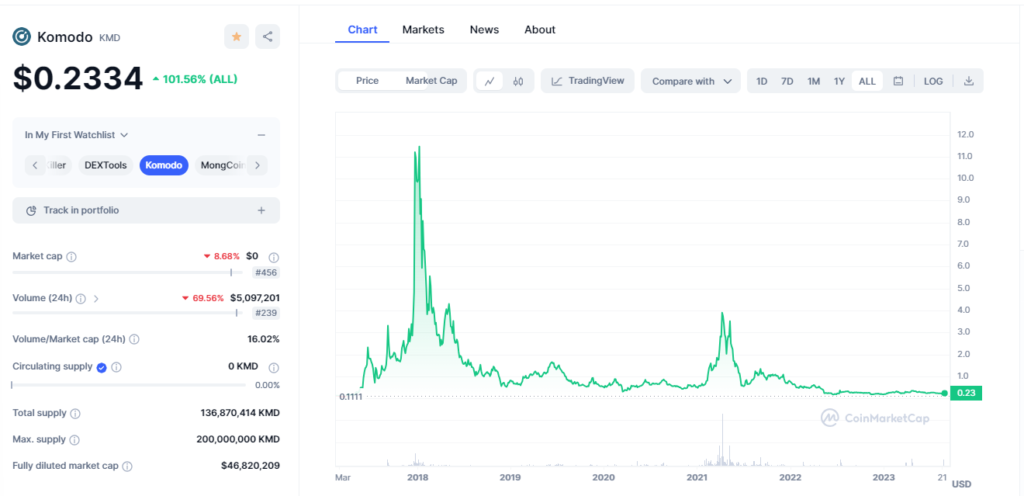 [Click The $KMD Chart Above To View On CoinMarketCap]
Social Media
Komodo is showing steady growth on several social media networks. The project has:
Komodo Offers a Great Value Proposition
The Komodo team is working to create a great platform that offers smart contracts, privacy, atomic swaps, and more. As more people learn about the capabilities of this powerful platform, interest in the project and it's native $KMD cryptocurrency will no doubtedly continue to rise. It would not be shocking to see Komodo run +6,500% in the next 2-3 years, revisiting ATH prices set during the crypto bull run of 2017.
Click Here for Updates on $KMD – It's 100% FREE to Sign Up for our Email Newsletter!
---
---
Disclaimer: This website provides information about cryptocurrency and related stock market investments. This website does not provide investment advice and should not be used as a replacement for investment advice from a qualified professional. This website is for educational and informational purposes only. The owner of this website is not a registered investment advisor and does not offer investment advice. You, the reader, bear responsibility for your own investment decisions and should seek the advice of a qualified securities professional before making any investment.