Pundi X (ETH: $PUNDIX) is paving the way for the widespread adoption of cryptocurrencies, enabling payment transactions utilizing several blockchains via its custom Point of Sale (POS) system, XPOS.
For end-users, XPOS supports most popular blockchain wallets including MetaMask, Trust Wallet, f(x)Wallet, as well as Binance Pay. The project has developed a contactless payment card, which allows holders of cryptocurrencies across multiple blockchains to seamlessly transact with XPOS retailers worldwide.
What is Pundi X and How Does it Work?
Pundi X has created a wireless, handheld POS solution, known as the XPOS Terminal, which allows KYC-verified business entities to accept digital assets in the real world. It is currently being used by 1,000+ merchants and being distributed in 30+ countries worldwide, including Canada, Japan, Honduras, Türkiye, South Africa, Thailand, Uganda, Uruguay, the United States, United Arab Emirates, and much more.
Pundi X's mobile application is called XWallet. First-time crypto users can take advantage of a compatible, contactless payment card, XPASS card and p(x)Card. XPASS allows users to flexibly transact in a wide-range of digital assets, including Bitcoin, Ethereum. BNB, $PUNDIX tokens, and a variety of popular stablecoins without transaction fees. p(x)Card is the hardware wallet that allows users to own their private key inside the card, and it is empowered by Function X and the Infineon SECORA™ security solution. Users who prefer using a self-custodial hardware wallet can also make micropayments via XPOS.
Pundi X Founders
Pundi X was conceived by Zac Cheah and Pitt Huang in 2017, with the idea to launch a crypto project that addressed the shortcomings of Bitcoin by creating a POS channel for mainstream use worldwide.
Zac Cheah, co-Founder and CEO, is a scholarship recipient of a MSc in Computer Science & Security, respectively from Sweden's KTH Royal Institute of Technology and the Norwegian University of Science and Technology. He formerly served as the Chairperson of the W3C Interest Group in Beijing, China.
Pitt Huang, the current CTO / COO of Pundi X, has a B.Sc in Engineering at Xi'An Polytechnic University. He is an avid entrepreneur and investor, selling his first company to Baizhu in 2008 at the age of 25.
Pundi X Tokens
$PUNDIX is the native cryptocurrency of Pundi X ecosystem. It is used to pay fees and to settle payment transactions on the network. $PUNDIX was launched on the Ethereum network in April 2021.
Pundi X will give rewards to qualified retailers for facilitating transactions via the XPOS. Customers also get free $PURSE tokens that they can redeem on their next purchase. The redeemable value of $PURSE tokens will be based on the current market price.

Pundi X Rewards
Retired Tokens
When the company was inaugurated in 2017, the initial tokens in use were PXS and PXSXEM. Between March and September 2018, they were swapped out for the NPXS token at the rate of 1 PXS token to 1,000 NPXS. The NPXS token was eventually replaced with $PUNDIX in April 2021.
Tokenomics of $PUNDIX
As of August 22, 2023, $PUNDIX was priced at $0.332 per token. It is currently trading at a -94.95% discount over its all-time high price of $6.58, which was set on the same day as the token launch.
$PUNDIX still holds an impressive market cap of $85.8M with a daily trading volume of $1.6M on centralized exchanges. Market activity on decentralized exchanges is much lower at $10.59K.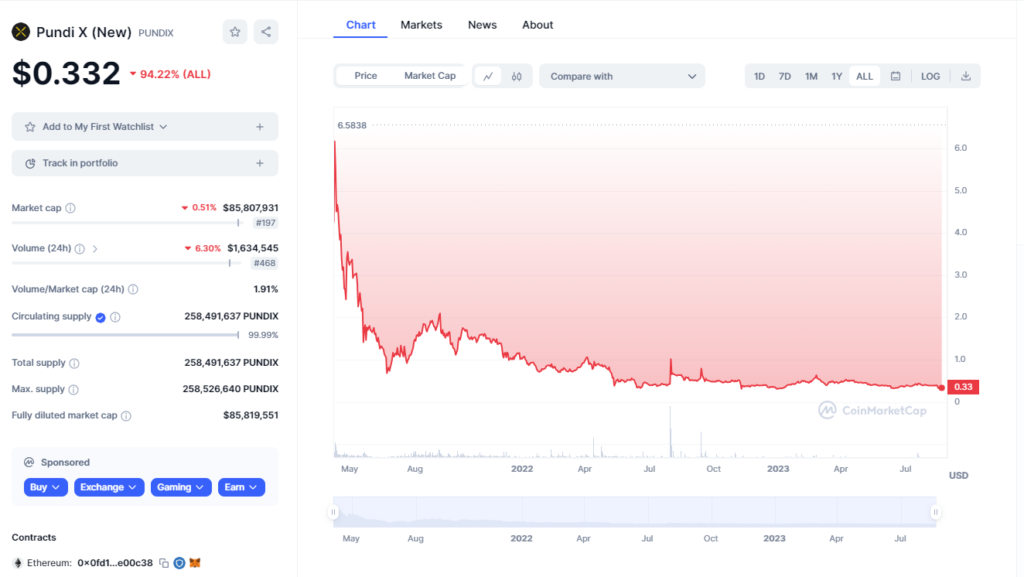 [Click The $PUNDIX Chart Above To View On CoinMarketCap]
Social Media
Pundi X has 155.4K followers on Twitter, 110K on Facebook, 16,000 members on Telegram, and 9k followers on Instagram.
All Things Considered
Pundi X provides a systematic ecosystem that allows cryptocurrency holders to utilize their digital assets similar to normal Fiat currencies. To speed up adoption, the project is giving away free XPOS Terminals in progressive countries, such as El Salvador, Honduras, Argentina, Brazil, Colombia, and Switzerland.
Retailers and customers can earn loyalty rewards using the Pundi X ecosystem. The company's pioneer technology, user-friendly approach, and systematic ecosystem are some of the standout features.
It is important to keep in mind that Pundi X is a respectable crypto project with 6+ years history. As such, investing in $PUNDIX, near these all-time low prices, could prove to be extremely lucrative in the future.
Click Here to get Updates on $PUNDIX – It's ?% FREE to Sign Up to our Email Newsletter!
---
---
Disclaimer: This website provides information about cryptocurrency and stock market investments. This website does not provide investment advice and should not be used as a replacement for investment advice from a qualified professional. This website is for educational and informational purposes only. The owner of this website is not a registered investment advisor and does not offer investment advice. You, the reader, bear responsibility for your own investment decisions and should seek the advice of a qualified securities professional before making any investment.